Lisboa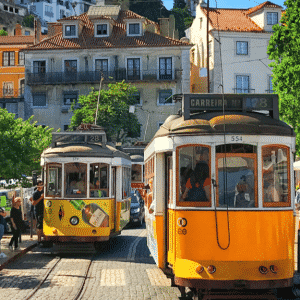 Styled over 400 years by the Moors, and enriched by the spice trade in the golden age of its overseas connections, Lisboa is a historic capital, filled with unusual character and charm. The city is an amalgam of 1,000 years of cultural influences, mingled with modern trends and lifestyles. The result is one of intricate and spectacular contrasts, with magnificent views across the city's seven hills. Lisboa will make a splendid environment for our international convention, and a wonderful visiting opportunity for members able to stay a little longer.
Travel
Lisboa airport is centrally located, only 15 minutes from the city centre. As a European capital city airport, it is served by all major airlines, with daily direct connections to all major European cities, as well as to the US, South America and Africa (more than 50 destinations in total).
If you are looking to use other forms of transport, trains go directly from Spain to Lisboa's Oriente Station, which is now the main international train station. A journey from London can take 26 hours with 3 changes. Lisboa is also served by cruise ships.
Transport options from the airport and station to our potential venues include Metro and taxis.
Venue and accommodation
We are in discussion with six potential hotel venues, all within 10-15 minutes of both the airport and the city centre. The convention programme will take place in the function rooms of the hotel, using plenary, medium-size and board-room spaces.
Negotiations on hotel room rates are in progress. Based on what we have seen, we hope that the rate will cheaper than the average in US destination cities. Taxes are usually included in the rates, except for a €4 per night per room hotel tax. Breakfast is also generally included in room rates, but that will depend on the final agreement that we reach. Wi-fi access will also depend on the venue. We will announce full details on all of these points during 2020.