COVID-19 requirements
Before travelling, please make sure to check the following for the latest information on the COVID-19 situation and measures in Portugal:
The VIP Executive Art's Hotel is taking steps to look after the safety of guests, including requiring guests to have a negative test result before they check in. At this time, the following are the options available; please note that one of the options is to take a test at the hotel itself. As we get closer to the convention, we will update everyone with the most recent travel and check-in requirements as they pertain to Lisboa and the hotel. We encourage all members to stay up-to-date on their local travel requirements around vaccinations and testing.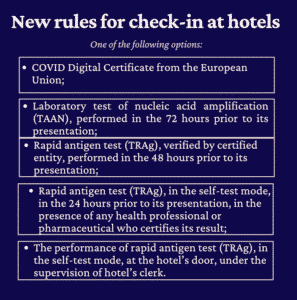 Room Rates
We have negotiated special rates for SMOFCon Europe attendees. These rates are available for bookings 1st December – 6th December 2021. Breakfast and standard internet are included.
Single Room (1 person) B&B: 74€ (about US $88) per night, including VAT
Double/Twin Room (2 persons) B&B: 84€ (about US $99) per night, including VAT
In addition, there is an overnight tax of 2€ (about US $2.37) per guest (over 13 years of age) per night. For any one stay, this tax is capped at 14€ (about US $16.58)
Please note: these rates are being left available for reference, but we understand that the hotel is now full for the weekend of the convention. If you have an urgent need, please contact chair@smofconeurope.com, in case we can help.